Junior Kindergarten Program
-
Junior Kindergarten Program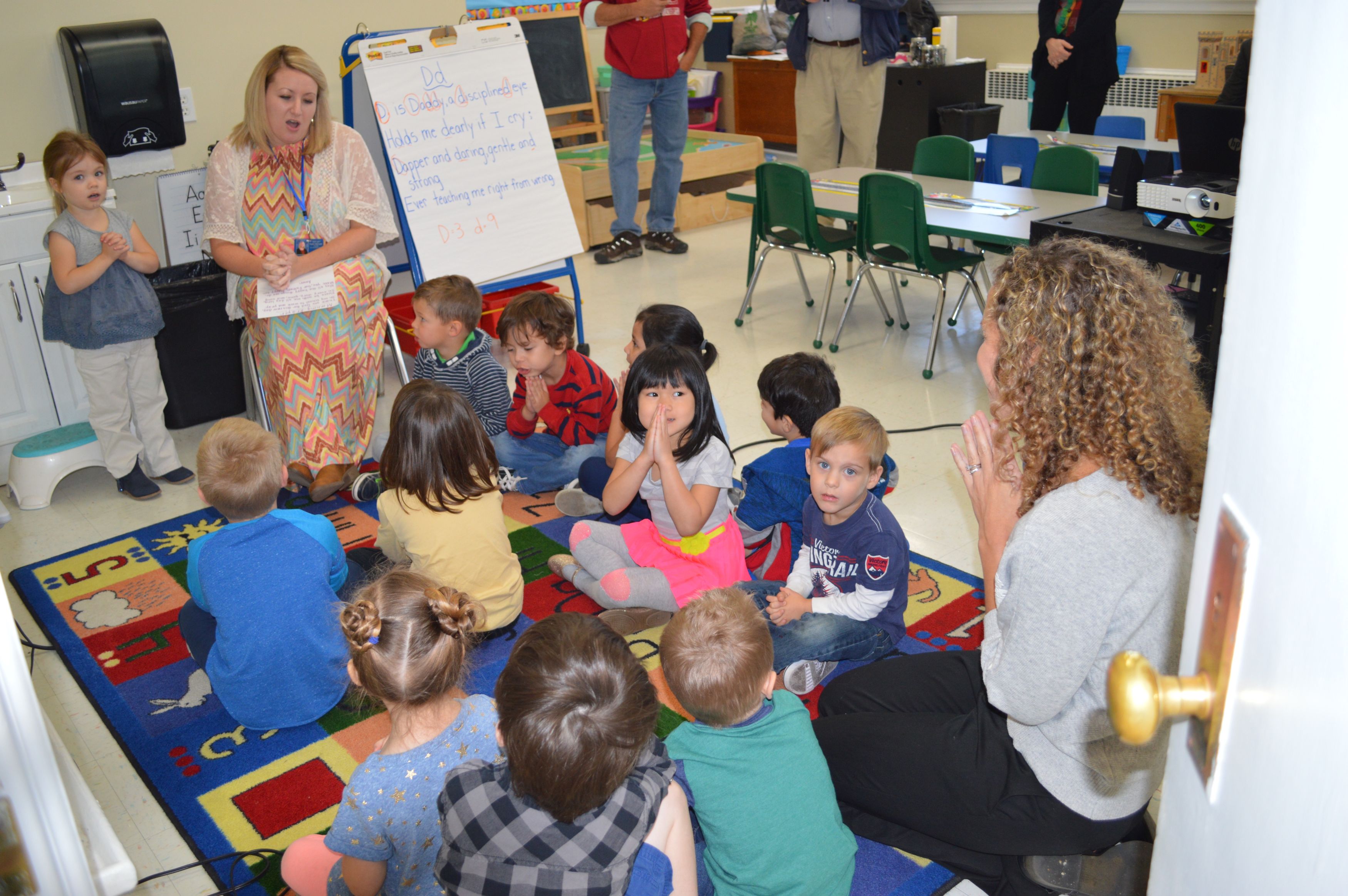 Monday through Thursday the Junior Kindergarten Program focuses on preparing students for Kindergarten by practicing routines, developing fine motor skills, and encouraging social activities. Each day begins with prayer. Learning often incorporates song, poetry, rhyme, and stories. The "Happily Ever After" program is utilized to teach pre-reading skill through a selection of traditional children's stories such as, The Three Bears, Little Red Riding Hood, and Peter and the Wolf.
On Friday mornings, students participate in the internationally recognized program, Catechesis of the Good Shepherd. Catechesis of the Good Shepherd is a hands-on method of faith formation for young children rooted in the Montessori method of learning. Like other Montessori programs, Catechesis of the Good Shepherd uses a prepared space called the "atrium" where the work of the children is facilitated and guided by a specially trained catechist. The atrium is filled with manipulatives: models of people, places, and objects found in liturgy and Scripture as well as traditional Montessori manipulatives. Because young children naturally learn by using their hands, the active engagement allows them to learn more about Scripture and the liturgy, deepening their relationship with God.
Sample Schedule
Morning
8:30-9:00 Table activities/centers during arrival
9:00-9:30 Circle time - prayer, songs, calendar, weather, colors, letters, counting
9:30-10:00 Snack - books, puzzles independently while waiting for others to finish
10:00-10:15 Story or beginning of a reading/math lesson
10:15-10:45 Specials (music, art, physical education, library)
10:50-11:15 Lesson/Art activity
11:15-11:45 Outside play
11:45-12:00 Clean-up and pack-up for 12:00 dismissal/prepare for lunch
Afternoon
12:00-12:30 Lunch
12:30-1:00 Free play
1:00-1:30 Story time
1:30-2:30 Nap
2:30-3:00 Clean-up and pack-up for 3:00 dismissal
Options
Our Junior Kindergarten program provides a number of options for parents. Parents can decide to enroll their child 5-day program, 4-day program (Monday - Thursday), or just on Friday. They may also choose to enroll half-day, until noon, or full day with dismissal at 3:00 pm with the rest of the school.
Like the other grades in the school, there is one Junior Kindergarten section.
Students must turn 4 years old by September 30 of the year enrolled in order to be eligible for Junior Kindergarten.
Admissions priority is given to students enrolling in the 5- and 4- day programs.