-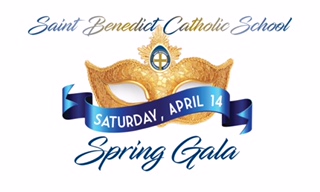 Dear SBCS Parents,

It's hard to believe that it is already time for preparations for this year's Spring Gala! This year's
Gala is set for Saturday, April 14, from 6:00-10:00 pm. We are excited to announce that we will be
holding our fun-filled event at the historic Hofheimer Building in Scott's Addition. Our theme this
year is "Masquerading Under the Moonlight," and we can't wait to see all of the creative masks
everyone comes up with! We are so excited about what we have in store for our families and friends
of Saint Benedict Catholic School!

The SBCS Spring Gala is the PTO's largest (and only!) fundraiser of the year, the proceeds of which
are used to offset operating expenses around the school, as well as PTO events including Field Day,
Parent/Teacher conference dinners, and lots more. Past Galas have provided funds for the music
chairs, textbooks, and even unexpected roof repairs. For the past several years, the PTO has used
Gala funds to contribute to a fund to help our teachers offset the expense of obtaining continuing
education credits. Each year we add to the fund so that more of our teachers will be able to utilize it.
How can you help?
Attend the event! Buy tickets, and invite your friends and family to attend! While this is a fundraiser for our school, by no means do we want to exclude anyone from coming and enjoying the fun and festivities!

Ask local business owners you know if they would like to donate a door prize and/or auction item. No donation is too small...we often bundle smaller items into larger auction prizes. Our Auction team needs YOUR HELP to gather and craft live and silent auction items that will boost our bottom line. Not sure where to start? We have a long list of previous donors – we just need the manpower to reach out to them and collect their donations!

Sell (or buy!) a sponsorship. There are 4 levels of sponsorship, each progressing with more perks and benefits. Invite some of those local business owners to be a sponsor, with reserved seating AND advertising!

Sign up to help set up and clean up (http://www.signupgenius.com/go/30e0e45ada623a0f94-spring3), as well as work the check in table and help with check out during the event.

Ask any individuals (parents, grandparents) you know who have an interest in our school as well!
Your PTO is working hard to organize this, the largest event of the year. Please let us know how you
can contribute to making this the best Gala yet!

Best Regards,
Jennifer Eschbach
PTO President

Georgia Riccobonno
Gala Captain

Kristen Treadwell
Gala Sponsor Captain

Annie Cooper
Gala Auction Captain